Live Review | ... Trail of Dead @ Black Cat 04.07.05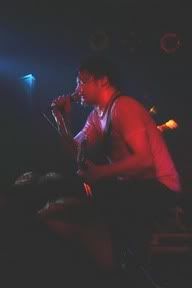 Conrad Keely's voice cracks every time he hits a high note in such a unique and charming way, no one would ever expect such a destructive spectacle as And You Will Know Us by the Trail of Dead to flow behind it. Half speaking the opening stanzas of "Will You Smile Again for Me" in front of a massive stage set-up, including second guitarist Kevin Allen, and the twin drum kits enveloping Doni Schroader and co-vocalist/ guitarist/ inciter Jason Reece. Around 7 minutes into the warbled verses, the first visceral moments begin.
Keely, once tortured by his introspection, has turned inside-out with rage encouraged by Schroader and Reece assault the drum kits like a synchronized anti-aircraft emplacement. A perfectly honed and volatile experiment into the progressive journey of …Trail of Dead's music. The calming effect of Keely's voice both yielding to and subduing the riotous output of Reece's aggression is the perfect dichotomy that defines the group, their music and their increasingly notorious live events.
As Reece and Keely trade places (from guitar and vocals to drumming) mid-song, logic behind the daring and hardened reputation of the group comes to light. "Caterwaul" has Reece choking his guttural voice (similar to Greg Dulli in mortal agony), until he releases hideous growl through the chorus, all the while perched precariously atop a wedge monitor, swaying between balance and the front row. It is Reece's unpredictability that contrasts Keely's persona, and at times even instigates his evil side to emerge. As the song degenerates into a flailing cacophony, Reece twists for a solid footing and his guitar sweeps low, into the head of a teenage girl. He continues unaffected collecting the microphone stands and cables in a cyclone of destruction. When the song ends and a bleeding squeal fills the room, he walks over to check on her, patting her aching head before returning to the drum kit. At stage left, stalwart guitarist Kevin Allen lights his third cigarette of over a dozen during the show, and finishes his beer. He seems almost immune to the spectacle his counterparts produce, despite his guitar tones being one of the most nurturing elements of their progressively explosive behavior.
As Keely leans in close to the crowd, pleading the lyrics to "Totally Natural" in an emotionally frantic manner, Reece goes berserk behind the drum kit. And as he cocks his knees to his sweaty chest and expels the drum kit into the crowd, collecting Keely.
The balance between these two defining personalities in …Trail of Dead becomes more and more the focus of interest during the show. The dynamic and ambitious music they perform serves as a greater stage for the harmony and disharmony that exists between Keely and Reece and the audience they play to. As the ear splitting finale of "Richter Scale Madness" rings, Keely begins to pull bodies from the front, and the thrashing spectators make their way on stage. With both Schroeder and Reece banging away, the communal blind love and hate surges. And despite it all …Trail of Dead, as reckless and dangerous as they may be to their fans, prove to be righteous in the face of their own madness.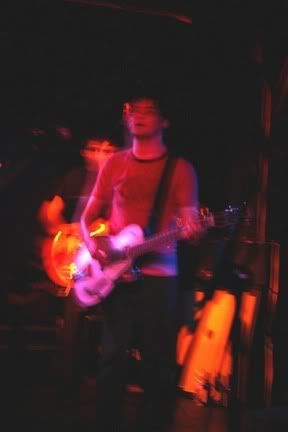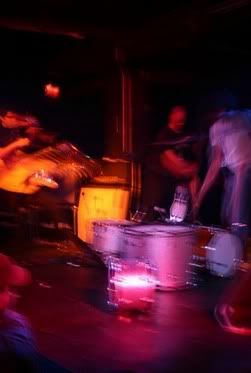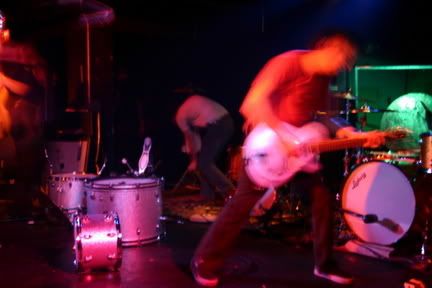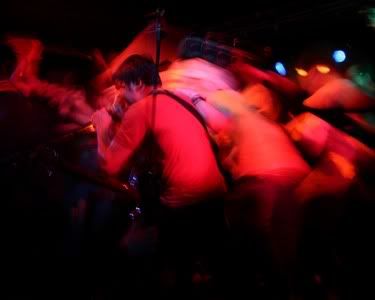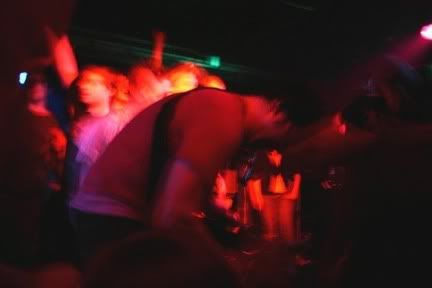 And You Will Know Us by the Trail of Dead's Official Website www.trailofdead.com
Merge Records Website www.mergerecords.com
Black Cat, Washington D.C. Website www.blackcatdc.com

Reviewed for Earlash Music Sight
www.earlash.com