Album Review | British Sea Power : Open Season (2005, Rough Trade)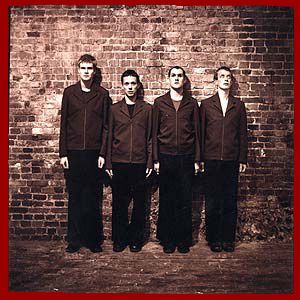 In the adverse, desolate world of late-70s Manchester, youth, so desperate for release and a voice to validate doomed futures, could be triggered into riotous meltdown at any moment. Ian Curtis and company choked their strident, angular tone and bleak expressionism down the throat of the blissful mass, all convulsing and undulating to the speed-fueled gloom. There was a profound impact on the quarry, and (arguably) those who got the news second-hand. The impression (coupled with the bands murky demise at the end of a rope) was so lasting that Joy Division is now legend. Every nuance and unheard inflection in the Joy Division catalogue is ripe for comparison to a thousand bands that may or may not idolize them.
However, British Sea Power does not sound as much like Joy Division (or Echo and the Bunnymen) as much as people would hope to validate these comparisons. Elements of the Brighton quintets' debut album were so readily compared that their own identity was difficult to decipher. If they sound like angular post-punk with dark, sighed words crashing over swift beats, then clearly they are a tribute act. Nothing sounds like anything if it doesn't sound like someone else.
The masses coming to backstreet clubs seeking the shutter and spasm under eyeliner smearing tears easily soiled themselves when a taxidermied owl was perched over a Vox Pathfinder. As Hamilton (drums), Noble (guitar), Wood (bass), Eamon (keys) and Yan (voice) come on stage, decked out in military surplus circa 1911, their sharpened Kaiser's helmets twinkling in the spotlight, the pedestrians could sweep their Clove ashes with their floor dropped tongues. Then music separated them from the comparisons twice as hard as the attire did.
On their second full-length, those frightened of British Sea Power's eccentricities may relax in the discovery that the group has matured into one of the last great Brit Pop bands. Still spastic, angular, and jagged, the group has now adjoined their own trademark literate voice with a echo of an honestly aged charm.
Recorded by Spiritualized colleague Mads Bjerke, Open Season rockets off into the first single "It Ended on an Oily Stage" with Noble's notoriously sharp guitar melody defining the song. After the initial assault, the music scales down into Yan's breathy delivery and obscure poetry references enveloping his idiosyncratic love. The calmed, but no less active guitars on "How Will I Ever Find My Way Home?" accompany the sighs back to a floating arrangement embodying this album's more restrained mood. "Like a Honeycomb" creates an oceanic rolling tune of ornamental whistles like breezes across the melancholy vocals. As the song lofts into the long-awaited, but hardly-climaxing crescendo, distant layers of guitar and tom-tom throbs signal the end. "Please Stand Up" is brilliantly obvious and a clear choice for the next single. Carried on dense strings, nearly burying the lush guitars, the song takes a turn into anthemic territory, proving the band's abilities as musicians, writers and dramatists.
This is British Sea Power's fulfillment on their artistic potential, proving them as heirs to a honored British rock throne, all but abandoned for synths and suits and embarrassing irony stunts. With greater structure in production, the band displays a bit less of their spectacular oddness, but all of their charm on a sophomore effort more accessible in songcraft. Though the current of British Sea Power has changed, they have used their absurdity with and displayed exhilarating, broader horizons on their best record yet.


Buy the album
here
(release date 04.05.05)
British

Sea Power Official Site
http://britishseapower.co.uk
Rough Trade Records Official Site
http://www.roughtraderecords.com
Review for Earlash Music Sight